Renewal of Wedding Vows
Celebrate your marriage by renewing your wedding vows at St Paul's.
If you have made the marriage vows before God over 5 years ago and want to renew your vows, please contact us to discuss this possibility. When possible, our priest will meet with the couple least once to plan the service of renewal. Much of the planning can take place using e-mail.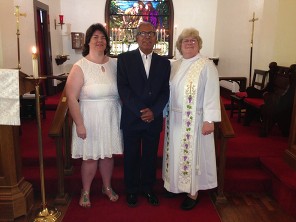 We have a liturgy for renewal of vows which is modified to meet each couple.
If you were married by a Justice of the Peace or some other type of licensed officiant who is not ordained by a Christian governing body (denomination), the Service would follow the liturgy known as the "Blessing of a Civil Marriage."
Blessing of a Civil Marriage
Couples married outside the church by a Justice of the peace or other marriage facilitator who is licensed by the state, will ask to have their marriage blessed at a later date.
If your marriage was more than six months ago, if you intend to hold your faith as a central tenet of your marriage, and you seek service of Christian blessing we invite you to contact us. We offer a service of blessing of Civil Marriage in the Episcopal Book of Common Prayer. We encourage couples to receive the blessing of their civil union in the church where they plan to worship regularly but will discuss this option with couples who have a connection to the island. Planning for this service will follow a similar path as the preparation for a Marriage.