St. Paul's parish is led by the Rt. Rev. Mark Hollingsworth, Bishop of Ohio; the parish Vestry; and a Priest-in-Charge appointed by the Bishop and Vestry.
You can read more about him here.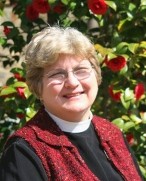 Mo. Mary was called as Priest-in-Charge of St. Paul's parish in August 2010 to serve the Bass Islands. She is an advocate for good liturgy and mission. She finds joy in Christian education for youth and adults. She loves being a parish priest with its myriad aspects and activities.
Mo. Mary has traveled extensively, including missions in Panama, Honduras and S.E. Asia, as well as personal travel to Israel, Europe and S.E. Asia. She lived in Germany for several years allowing her to travel throughout Europe.
She serves as a volunteer at the Episcopal General Convention. She served as a page in the house of Bishops in 2006, 2009, 2012, 2015 and 2018. She also served on the search committee for the Suffragan Bishop for Federal Ministries in 2009.
An Episcopalian since childhood, Mo. Mary was raised in West Des Moines, Iowa. After graduating from Iowa State in 1977 with a BA in Recreation Management, she served as a Girl Scout Field Executive staff member and Summer Camp Director until 1980.
For the next 22 years she held a variety of leadership roles overseeing Satellite Systems for the Air Force, including managing the space systems budget, satellite systems training for officers, and leading satellite surveillance squadrons. In 1985 Mo Mary received a Master's Degree in Management from Webster University.
Moving all over the United States and overseas with the Air Force, she was active in the Episcopal Church wherever she lived including Grand Island NE, Colorado Springs CO, Leavenworth KS, and Arlington VA.
From 1989 until January 2006 her primary residence was in Northern Virginia. During this time, she had three assignments to the Pentagon where she volunteered as the coordinator of weekly Episcopal Worship services in the Pentagon and was very active in her local parish. After retirement from the Air Force, she entered Virginia Theological Seminary, completing a Master of Divinity degree in May 2005.
Mo Mary served as assistant to the Vicar at St. Patrick's Anglo-Vietnamese parish in Annandale, Virginia, during the Vicar's sabbatical before she was called as the Assistant Rector of Church of Our Saviour from January 2006 until August 2010. In August 2010 she came to St. Paul's Put-in-Bay.
In addition to her responsibilities as the 3/4 priest at St. Paul's at Put-in-Bay, she serves as a chaplain to American Legion Post 542. She is a volunteer at Perry's Victory & International Peace Memorial. She has served as a Search Consultant to other churches in the Diocese of Ohio who are looking for new clergy. She served on the Commission on Domestic and Global Mission.