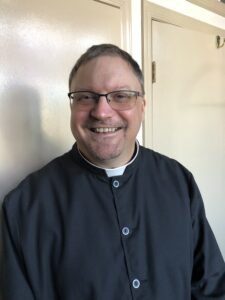 Our priest-in-charge is The Rev. Robert (Bob) Solon, Jr., who was elected by the Vestry in August of 2022 and arrived for his first Sunday with us on September 25. He grew up in Toledo and attended Capital University in Columbus for his undergraduate degree. After a career in large-scale application development (Department of Defense, Keane, Inc., and Gartner, Inc.) he attended The General Theological Seminary in New York for his Master of Divinity degree. He also eventually earned the Master of Sacred Theology degree, with a concentration in the daily prayer of the church. Ordained in 2007, prior to serving with us, Fr. Bob served several parishes in New Jersey and New York, including St. Thomas Vernon, St. James' Hackettstown, St. Andrew's Staten Island, and St. John's Passaic.
"I'm truly delighted to be back in the Midwest and Ohio after nearly twenty years in the New York City area. Put-in-Bay is an amazing locale and I look forward to expanding our ministries to both islanders and visitors. I truly see the Bass Islands as "thin places," where guests and residents alike can find time and space "away from it all" to discover or re-discover their relationships to God and each other. I'm hopeful we can expand our retreat and worship offerings so we can create opportunities for rest and retreat. Check back soon!"
Our Current Vestry (with the year each member's term expires)
Mrs. Mary Ann Hoover Meyers, Senior Warden (2025)
Mr. Bob White, Junior Warden (2025)
Mr. Chip Duggan, Clerk (2025)
Mrs. Paula Hubner (2024)
Mr. Wesley Baker (2025)
Read about what our vestry does here.
The Bishop of Ohio, who oversees all the parishes and communities in the Diocese of Ohio, is the Rt. Rev. Mark Hollingsworth. We look forward to the ordination and consecration of our Bishop-elect, the Rev. Ann Jolly, in April of 2023.