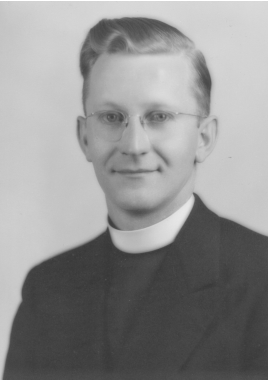 The Rev Hugo J.P. Selinger was born in Mannheim, Germany March 26, 1876. He received his education, including a PhD, in Germany. He came to the United States as a professor of Sociology. At 37 years of age he was ordained to the diaconate in 1913. That same year he married Kathryn Tunner Caryl in Chicago on November 26th. He was ordained a Priest in 1914 and continued to teach in universities.(Chicago, Puget Sound and Montana) while serving local churches. In 1916 he moved from a teaching position in Dillion, Montana to Kenyon College, Ohio. In 1918 The Reverend Hugo J.P. Selinger left teaching to become the rector at St Paul's, Bellevue, Ohio and to oversee two Mission churches. He remained there until early 1922.
Rev Selinger became rector of St. Paul's Put In Bay 1922-1924.
Following his years at Put-In-Bay he moved to North Platte, Nebraska where he served as rector of Our Saviour's Church and St Paul's Chapel 1924-1925. Next he went to Grace Church, Chadron Nebraska 1925-1928 followed by St. Paul's McCook 1928-1933.